Photographer -
Alana Taylor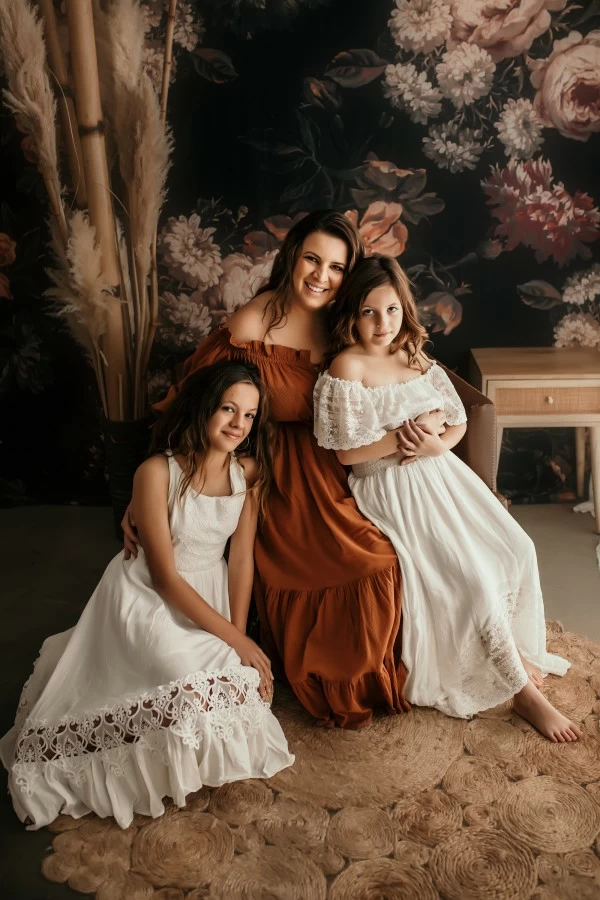 Business: Alana Taylor Photography
Location: Melbourne, Victoria
Photography Types: Baby, Cake Smash, Maternity, Newborn
1. What kind of experience do you have as a photographer?
I have been in the newborn industry for 9 years and trained in newborn safety and posing. . To ensure all of my clients are safe at all times, I have been registered, fully vaccinated, and fully insured.
2. What type of photography do you specialise in?
I specialise in newborn, maternity, baby, and cake smash photography.
3. Where are you located?
My studio is located in Cranbourne East within the South East Suburbs of Melbourne. It's bright, comfortable, and full of internationally sourced props to help clients feel comfortable during a shoot.
4. When should clients book their photography sessions?
I'm often booked up months in advance for customer due dates, so it's recommended to book in early. Normally for newborn and baby photography sessions, booking in when you are still pregnant is best.

Booking in the baby's due date will secure a spot and once the baby is born, we can schedule in a specific date and time for the newborn session within the 3 weeks post birth.

Maternity photography is best done in the third trimester, between 30 and 35 weeks.

Newborn photography is best done between birth and 3 weeks for all those gorgeous sleepy curled up images.

Baby photography is usually done from 12 weeks to 1 year. My favourite baby session is a sitter session when your little one is sitting unassisted and not yet crawling.

Cake smash photography is usually best done from 10 months - 13 months, just in time to celebrate a little ones first birthday.
5. What kind of prices and packages do you offer?
Most maternity, newborn and baby session prices range from $650-$2600.

There are 3 main package options for newborn photography:

#1 Newborn Session Only - 10 digital images with option to purchase add-ons

#2 Newborn Session with Family and Sibling Shots - 10 digital images with option to purchase add-ons

#3 Newborn All Inclusive Package - All images on USB plus product and prints
6. How should customers prepare for their photography sessions?
All customers are sent a preparation guide to help prepare for a newborn session. They are also given a questionnaire prior to the session to ask about colours to use and not to use, along with their favorite styles from my photography gallery.

I would like to stress that newborns are not robots and sometimes things don't always go to plan. Regardless of how a baby arrives at the studio, we will work with newborn and family to get the best images and outcome for the session.

Customers are asked to feed the baby just before leaving home. If the baby is not due for a feed, then they are asked to please wake them for a top up feed, as feeding the baby on arrival at the studio will wake them up and may take at least 45 minutes to fall back asleep.

Customers are also asked to dress the baby in a bigger sized onesie that zips in the front, as it's easiest to take off and less disturbing to them. Singlets that require overhead removal are discouraged.

If mums are having photos taken with the baby, it's suggested to have their hair and makeup done prior to arriving to the studio, but if that doesn't happen, there is also a mirror available in the studio.
7. What should customers expect during a photography session?
Newborn sessions are usually 1-2 hours long but can sometimes take longer if the baby is unsettled or needs a feed. The studio is warm for the entire session, so the baby can be comfortably posed naked.

Customers should expect lots of fun picking and choosing hats/headbands and feeling complete bliss watching their little one being captured into art.
8. How do you ensure safety of the newborn during the session?
Safety of both, mother and baby is my top priority. As I said, to ensure the safety of all my clients at all times, I have been registered, fully vaccinated, and fully insured.
9. How soon will customers be able to get their photos?
A sneak peek is available on Facebook page and Instagram within 24 hours of a session.

Galleries are ready to view within 1 week for customers to pick their favourite images and fully edited images are provided within 2 weeks.
10. Do you have anything else you would like to tell us?
I would love to take images for families that will create lasting memories. I hope everyone can take the time to look through my hundreds of happy customer reviews on Facebook to see for themselves.
Awards